Powder Coating Quality
Max Film Thickness (um)
Standard Film Thickness (um)
Min Film Thickness (um)
120
60
40

Anodized Quality

Coating Film Thickness (um)
Min-Average Film Thickness (um)
Min-Part Film Thickness (um)
AA10
10
8
AA15
15
12
AA20
20
16
AA25
25
20
Electrophoresis Quality
Anodized Film Thickness (um)
Paint Film Thickness (um)
Composite Film Thickness (um)
≥9
≥12
≥21

PVDF Quality

Coating Type
Average Film Thickness (um)
Min-Part Film Thickness (um)
Two Coating
≥30
≥25
Three Coating
≥40
≥34
Four Coating
≥65
≥55

Wooden Grain Quality

Max-Part Film Thickness (um)
Average Film Thickness (um)
Min Part Film Thickness (um)
100
80
60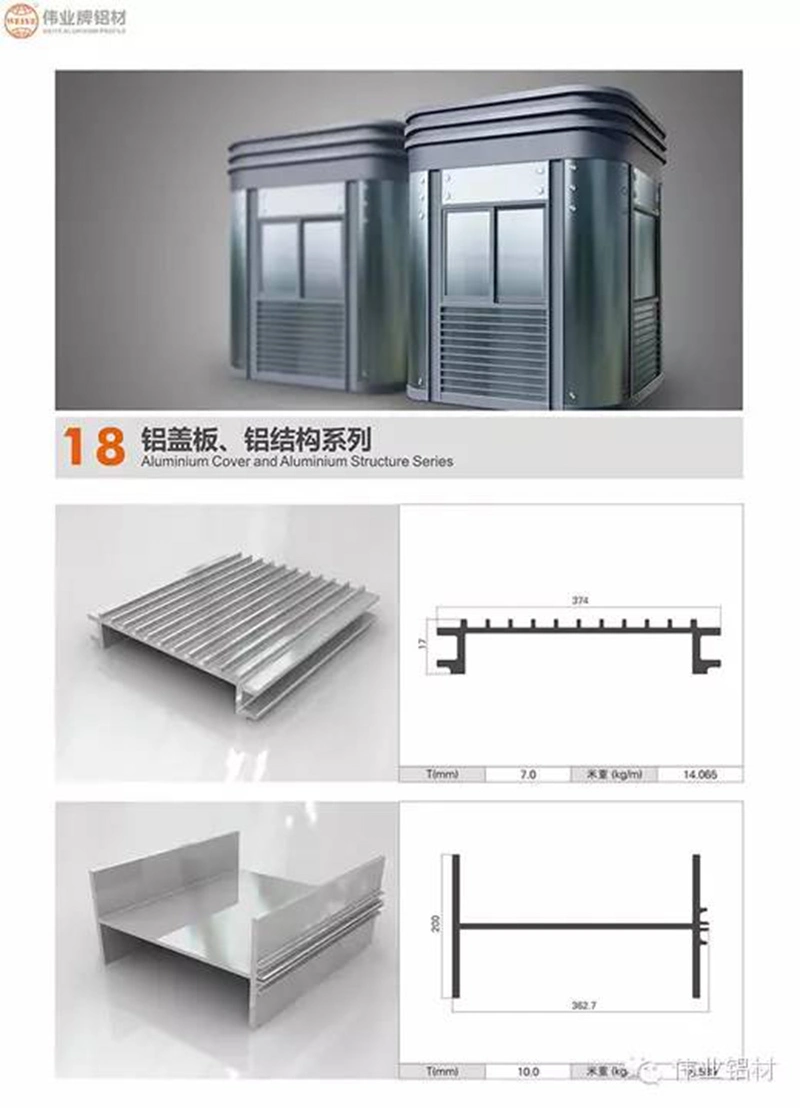 Aluminium Profile General Chiemical Composition of Alloy
| | | | |
| --- | --- | --- | --- |
| Alloy | 6063 (%) | 6061(%) | 6082 (%) |
| Silicon Si | 0.2-0.6 | 0.40-0.80 | 0.7-1.3 |
| Iron Fe | 0.35 | 0.70 | 0.5 |
| Copper Cu | 0.10 | 0.15-0.40 | 0.1 |
| Manganese Mn | 0.10 | 0.15 | 0.4-1.0 |
| Magnesium Mg | 0.45-0.90 | 0.80-1.2 | 0.6-1.2 |
| Chromium Cr | 0.10 | 0.04-0.35 | 0.25 |
| Zine Zn | 0.10 | 0.25 | 0.20 |
| Titanium Ti | 0.10 | 0.15 | 0.10 |
| Others ( each) | 0.05 | 0.05 | 0.05 |
| Others (total) | 0.15 | 0.15 | 0.15 |
| Alumnium Al | Remainder | Remainder | Remainder |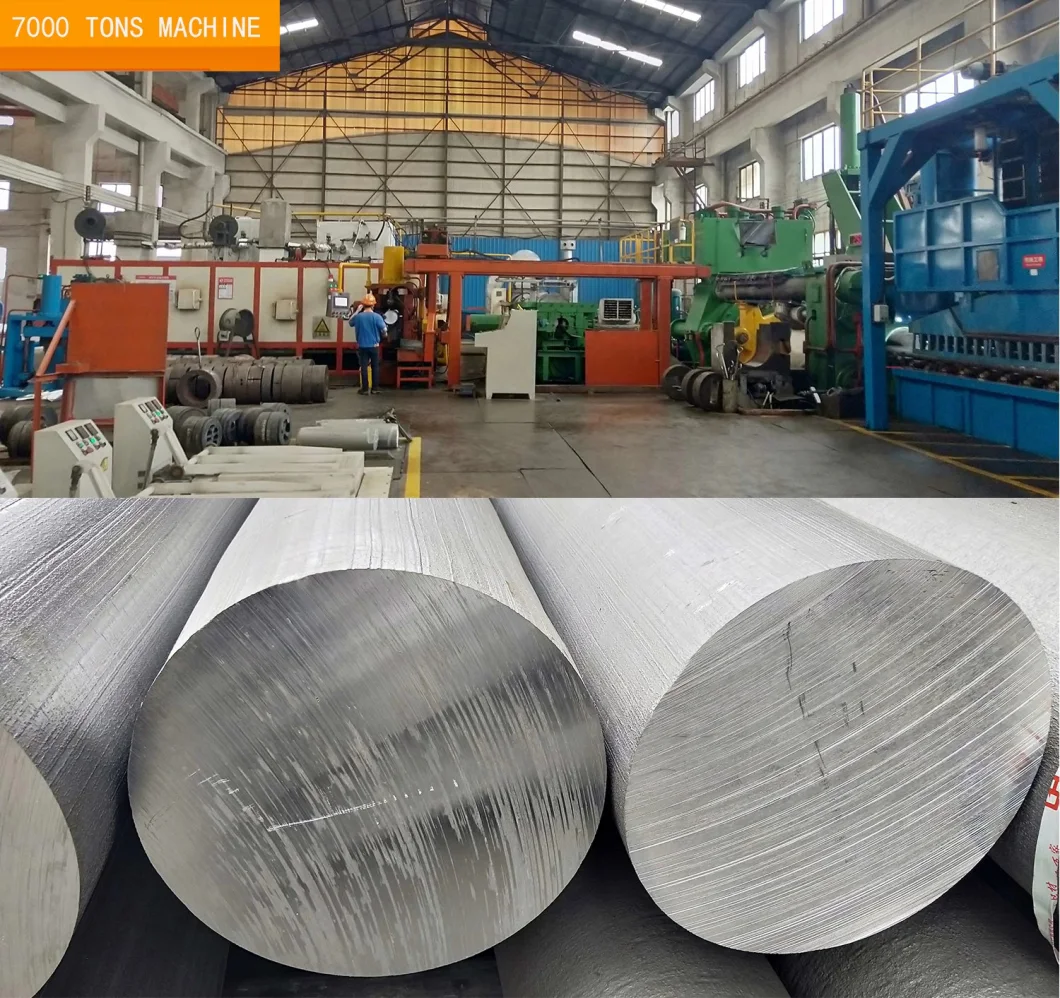 Aluminium Profile Mechanical Properties of Sections Under Room Temperature
Alloy
State
Width (mm)
Tensile Strength Test
Hardness Test
Tensile Strength (rm)
Non-Proportional
Stretching Stress (rp02)
Streching Rate
Pattern Thickness
Vicker Thickness
Vicker Thickness
A
A50mm%
mm
HV
HW
6063
T4
≤25
130
65
-
12
0.8
58
8
T5
all
160
110
8
8
-
-
-
T6
all
205
180
8
8
-
-
-
6061
T4
all
180
110
16
16
-
-
-
T6
all
265
245
8
8
-
-
-
6082
T4
≤25
205
110
-
12
-
-
-
T6
≤5
290
250
-
6
-
-
-
≥5-25
310
260
-
8
-
-
-
6351
T4
≤25
205
110
-
12
-
-
-
T6
≤5
290
250
-
6
-
-
-
≥5-25
300
255
-
8
-
-
-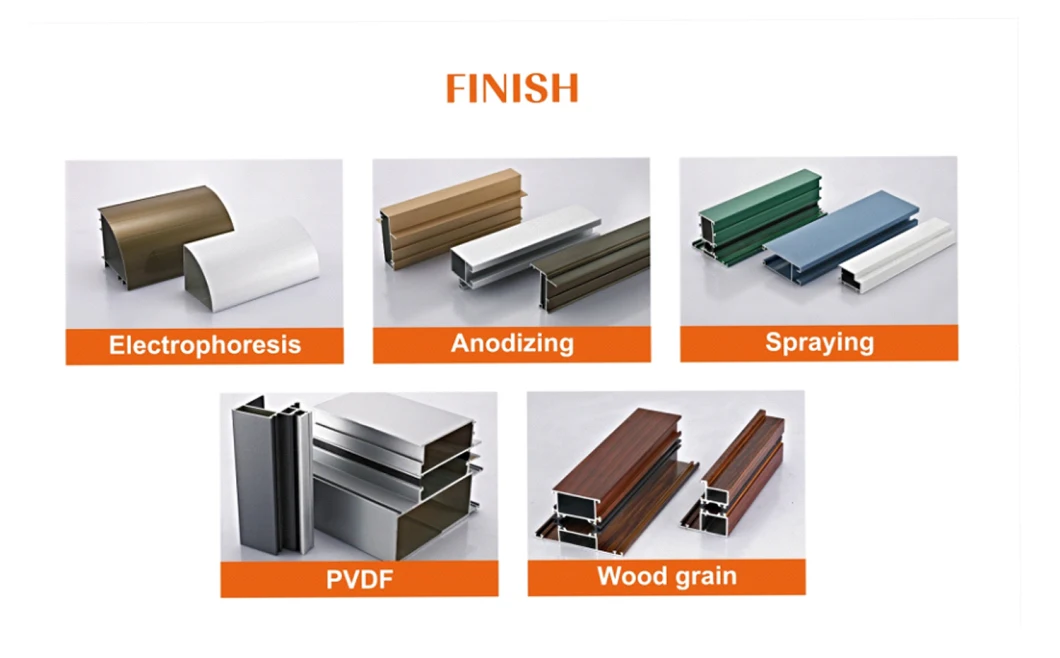 Company Introduction
Since 1992, Guangdong Weiye Aluminium Factory Group Co.,Ltd. was found in Foshan City, the first city of chinese aluminium profiles. The company totally takes up arear of over 600000sqm,has emplyees more than 1600,including 83 engineers and technicians;
Weiye Possesses globally-advanced manufacturing equipments for aluminium profiles,which leads to production capacity more than 400,000 tons;
65 extrusion lines with the capacity 600 tons to 7000 tons;
15 environment-friendly casting rod lines;
8 lines of anodic oxidation and electropnoresis each;
9 powder coating lines with vertical lines;
3 fluorocarbon spraying lines;
18 heat-insulating lines;
5 wood-grain lines;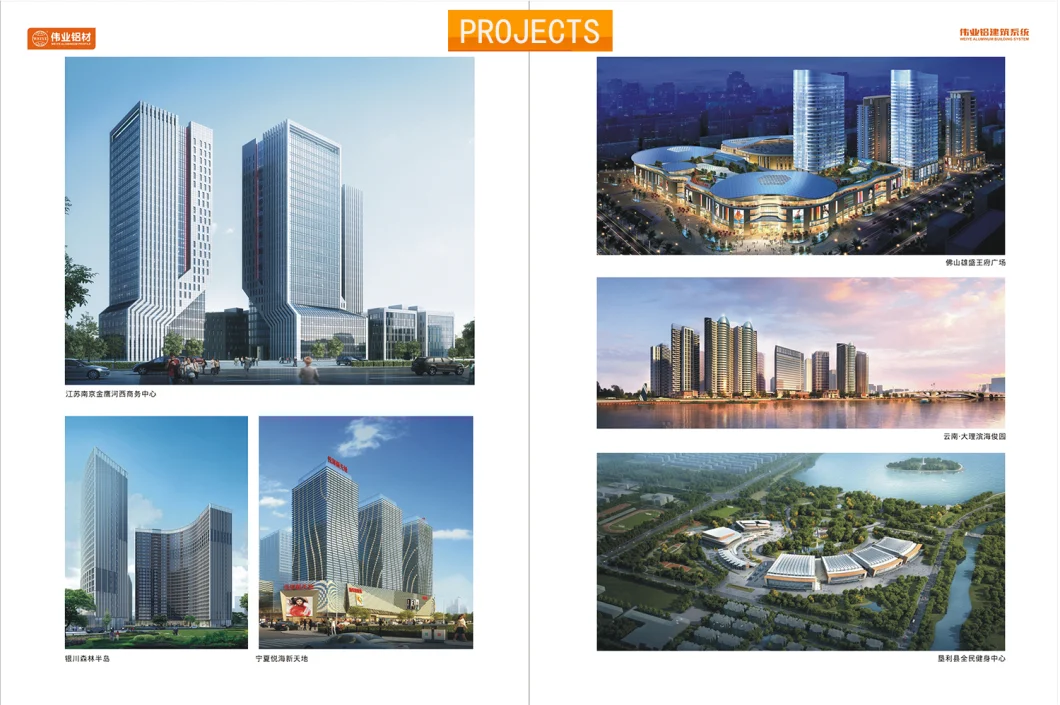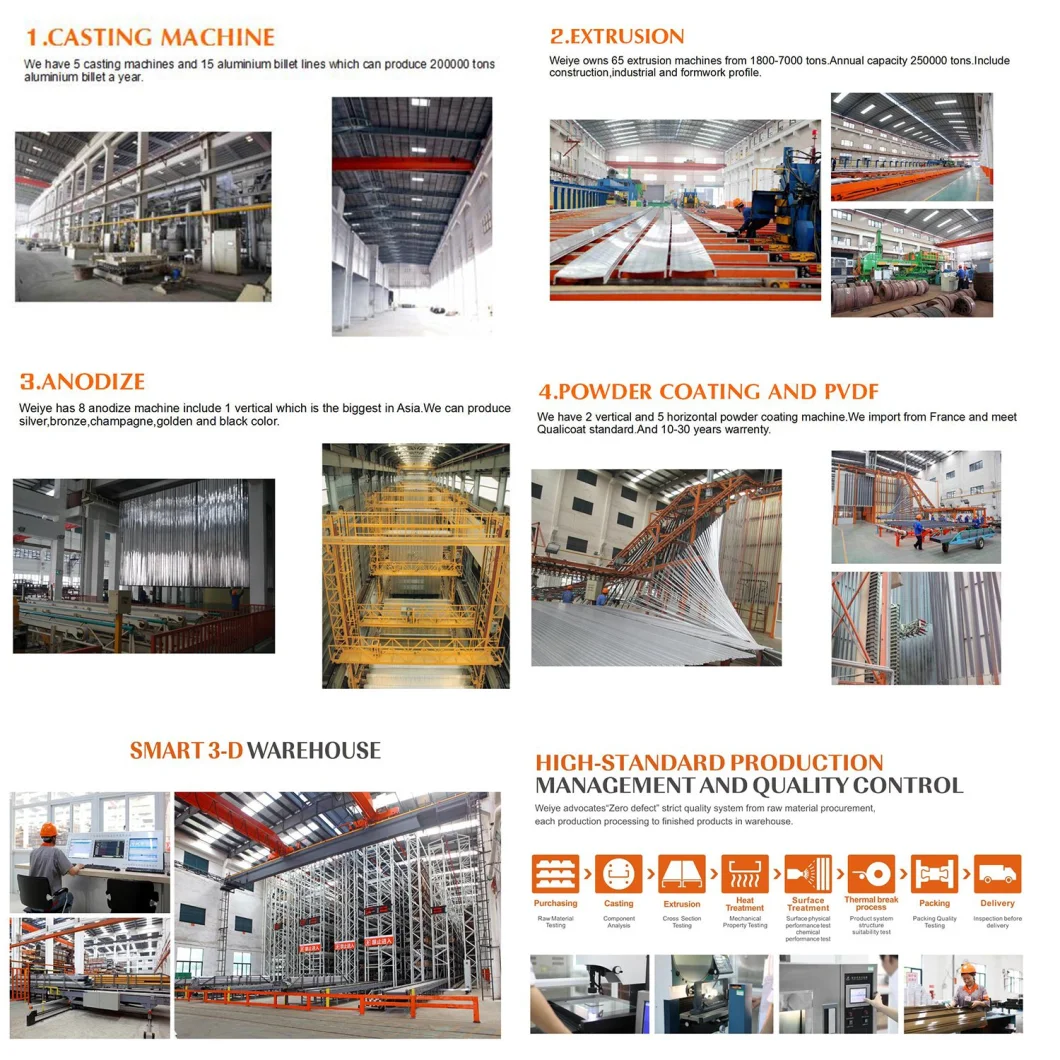 FAQ to save your time
Q1: What's the payment?
A: Usually by T/T, L/C, 30% as advanced deposit and balance before shipment;

Q2: How long the delivery time for the sample and mass producttion?
A1: 2 -3 weeks to open the new mould and make sample;
A2:3-4 weeks after receipt of deposit and confirmation of the order;

Q3: What's the package?
A: Usually inside pearl cotton, outside shrink film. also according to customized;

Q4: What's certificates do you have?
A: Qualicoat,Qualand,CNAS,ISO,AS2047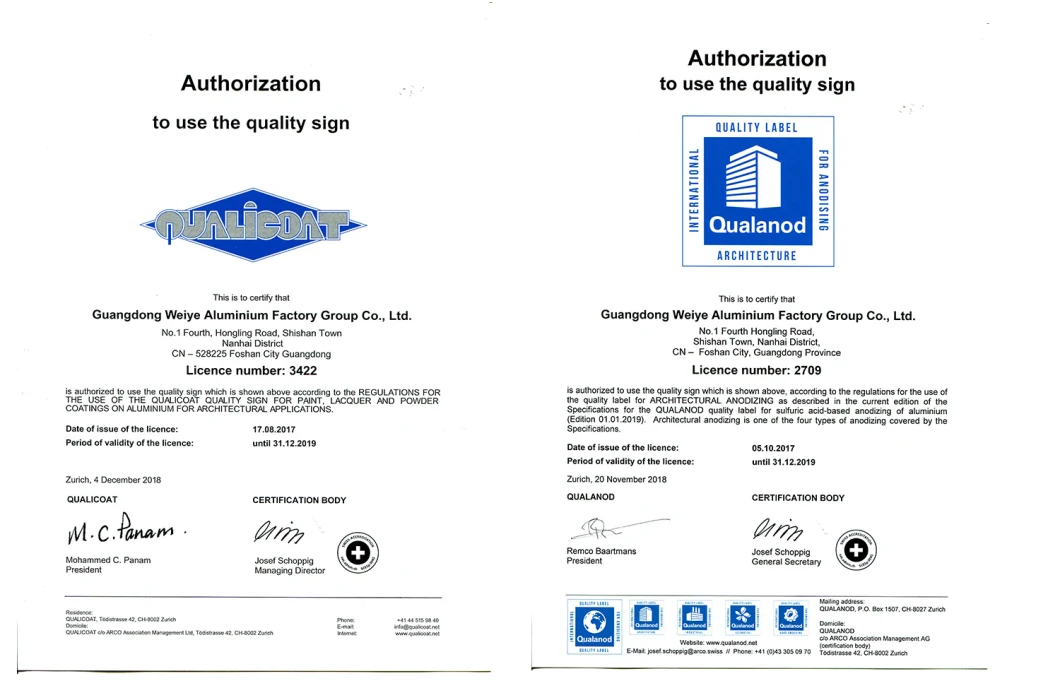 FAQ:
Q1: Are you manufacturer ?
A: Yes, sir. Weiye Aluminum Factory located on Foshan city, Guangdong Provice which has 25 years expercience in aluminum products ( aluminum extrucion ).
Q2: If I need sample, coul
door panel
d you support?
A: Yes, sir. You only need to provide the drawings to us. All the rest of the things Weiye Aluminum Factory do.
Q3: What's your MOQ ?
A: 1 metric ton for each model.
Q4: What's the thickness for anodizing? Can you do 15 um?
A: Yes, Weiye Aluminum Factory can do 15um and above.
Q5: What color you can do for powder coating? The thickness for powder coating?
A: Weiye Aluminum Factory can do any color for powder coating as long as you can provide the color sample. Our normally powder coating thickness is 60-80um.
Q6: How do you charge the mold fee?
A: Incase we need to open new mold for your ordered profiles ,the mold fee will be refounded to customers when your order quantity reaches a certain amount.
Q7. What is the differences between theoretical weight and actual weight?
A: Actual weight is the actual weight including packaging. Theoretical weight is identified according to the drawing,calculated by of the weight of each meter multiplied by the length of profile.
Q8. How do you quote price , per ton or per meter?
A: Weiye Aluminum Factory provide more than two pricing modes
Q9: How many years of your windows and doors product warranty ?
A: 10~20 years for different surface
Q11: What color you can do for wood grain?
A: Our most popular colors are Western Red Cedar, Australia Cedar, Jarrah I, Jarrah II, Chestnut, Bush Cherry, Bush Wood, Western Wood, Snow Gum, etc. If you need any other colors, Weiye Aluminum Factory can do according to the color samples you provide.
Q12: How's the weather resistance for wood grain finish D1010?
A: (1). Powder: Akzo Noble Interpon D1010.
(2). Wood grain film: Italian Menphis.
(3). Standard complied: American AAMA Standard.2603
(4). UV test:1000 hours.
(5). Salt spraying test:1000 hours.
(6). Normal weather: 10 years color guarantee.
Q13: What certification do you have? What's your standard?
A: Weiye Aluminum Factory have ISO certification. Our standard is DIN, AAMA, AS/NZS, China GB. We got more certification from Norway and other counntries, we also passed the related certification of miltary industry.
Q14: What's the delivery time for samples and mass production?
A: (1). 1-2 weeks to open the new moulds and make free samples.
(2). 3-4 weeks after receipt of deposit and confirmation of the order.
Q15: How much the shipping cost is ?
A: The shipping cost changes every month. From China to Sydney/Melbone is about USD650 for 1 20ft container.
Q16: How do you pack your product?
A: Packing steps for aluminum windows:
Step 1.Protective tape protects frames from scratches;
Step 2.Keep windows fixed on iron pallets;
Step 3.Tie up windows on the iron pallets with plastic belts;
Step 4.PE films keep windows away from sea water;
Step 5.Fill in the space between each two iron pallets by air bags;
Step 6.Tie up iron pallets in container with plastic belts.
Our packages will ensure the windows arrive at project jobsite in good conditions.
Q17. Are you supplying standard sizes of windows/doors or customised products ?
A: Both are available. Weiye Aluminum Factory have our own designed windows/doors series, and we also supply customised products for lots of end customers,developers and builders.
Q18. Is there any price difference between powder coating and anodizing ?
A: Yes, there is little difference. Different surface finish will make little different cost difference.
Weiye Aluminum Factory recommend you to choose anodized finish if the house is near salt water for long-effective corrosion resistance,but powder coating will be better if the house is far away from salt water.
Q19. What kinds of hardware can you supply ?
A: Commonly Germany brand,China top brand and other customers appointed brands.Weiye Aluminum Factory recommend you to use the local brand. Because it will be easy for you to replace.